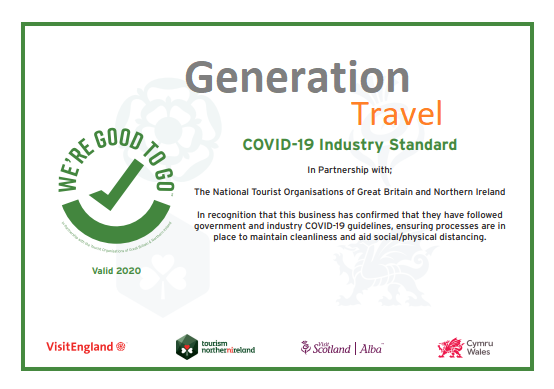 We are pleased to announce that we have recently been awarded the "Were Good To Go" Covid-19 Industry Standard
At Generation Travel the safety of our guests and employee's will always be our number one priority and as a result, we will be introducing new procedures when our holidays resume.
As the guidance is constantly evolving we will continually monitor the government's advice and will keep our Covid-secure measures updated with all information sent along with travel details 1 week before departure. Below are just some of the measures that we are implementing.
All of our staff will undergo full training in our Covid-secure procedures and full training on our risk assessments before we resume our holidays.
We have invested in fogging machines for our tour coaches which sanitise every aspect of a vehicles interior, including Hard/Soft Surfaces, Touch points and the entire Air conditioning system killing 99.9% of germs, bacteria, viruses and spores including Covid-19. These will be used before, during and after every tour.
We have invested in non touch digital thermometers for our tour coaches and all staff will be required to check their own temperature before attending work and will not attend work if they are experiencing Coronavirus symptoms.
All coaches will be fitted with hand sanitisers at each entry/exit point which guests will be asked to use each time they board the coach. It is also recommended to carry a small bottle of sanitiser with you in your bag.
Customers will be required to wear a face covering whilst travelling on our coaches, unless they are unable to do so due to breathing difficulties or a disability. Customers unable to wear a face covering are asked to advise us by calling 01642 714918 before travelling so that the driver and hotel are aware.
Customers who are exempt from wearing a face covering for medical reasons must be able to show relevant documentation relating to medical exemption if required.
Generation Travel International Headquarters is currently closed to visitors but will re-open from the 1st September.
We look forward to seeing you

.
We are still available to contact via email or telephone:
TEL.
01642 714918
or email
admin@generationtravel.co.uk